New: CLUSTER 1994, Live in Barcelona
Hans-Joachim Roedelius, piano, keyboard, Dieter Moebius, keyboard.
Released with the authorisation of Roedelius.
Cluster's musical style varied greatly over their career. AllMusic described them as "the most important and consistently underrated space rock unit of the '70s," noting that they first began as "an improv group that used everything from synthesizers to alarm clocks and kitchen utensils in their performances" and later transitioned to produce "many landmark LPs in the field of German space music often termed kosmische.
Cluster has been widely influential not only to ambient and electronic music artists, but to techno, electronica and popular music as well. Artists and groups whose music has been influenced by Cluster include David Bowie, Robert Rich, John Foxx (formerly of Ultravox), Alex Paterson of The Orb,Coil, Oval, To Rococo Rot, and Mouse on Mars.
Sound from a good quality cassette. Recorded in Barcelona.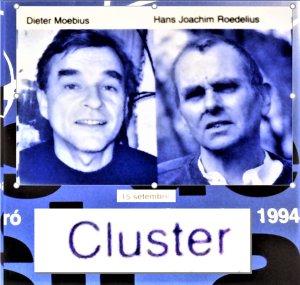 Download here:
https://novaera-msicasecreta.bandcamp.com/album/cluster-1994