Blood Quartet. Sala BeGood, 29.10.2016. Barcelona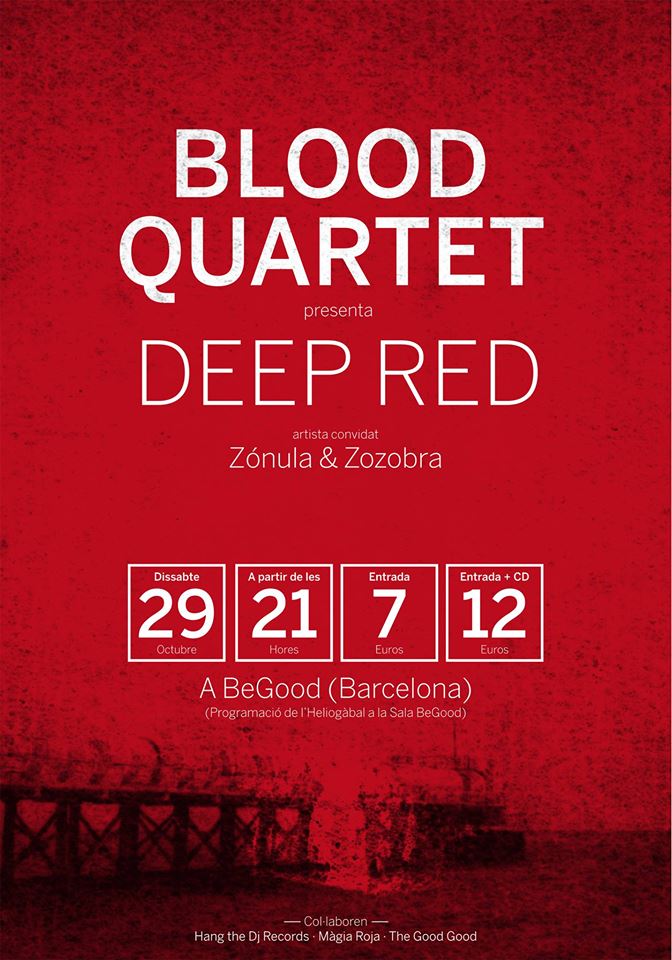 Blood Quartet
at Sala BeGood (in association with Heliogàbal and Magia Roja), Barcelona – Saturday 29th October 2016
Mark Cunningham (trumpet, guitar)
Lluís Rueda (guitar, Korg MS-10)
Kike Bela (bass, Korg MS-10, guitar)
Càndid Coll (drums, voice)
Okay, statistically speaking, the odds are that you weren't at this gig. That was your first mistake. So, let me briefly tell you how good it was and maybe you won't make that same mistake twice…
Blood Quartet are Murnau b (Rueda, Coll & Bela) plus Mark Cunningham
Blood Quartet mix feedback, guitar abuse, bludgeoning (yet nimble) bass, deceptive drumming, and fx-laden trumpet.
Blood Quartet don't play so many gigs.
They also have a new recording out and that's what Saturday evening was all about.
deep-red-coverThey played pretty much all the material from album, and maybe a new track or two in addition, and it sounded awesome. Live, the music swells, stretches out, expands, rolls over lazily, all the time in the world, and proceeds to flatten your brain. Guitars scratch and scrape, the Korg analogue synth adds warmth and depth, thunderclouds gather, shafts of oblique trumpet echo through… Standout songs were old favourite Dragon Tree, and new tracks Fly Your Eyes and Only Lovers with Coll's muezzin-like calls. The added live dimension really brought out the chemistry that these four guys have. Quite possibly gig of the year, let's see…
So, if you get the chance, go see them. In the meantime, check out the album, "Deep Red".
p.s. For the guitar nerds out there, when Mark Cunningham switches from the trumpet it's to a vintage Danelectro Convertible Thinline which he bought in 1976 for $75… oh, and Lluís Rueda beats up on a well-travelled electric blue Fender Jazzmaster. Now you know. (From Dave Foxhall, http://ajazznoise.com/blood-quartet-d…).