Here it is! IMPROVISATION EMSEMBLAE by Zer0 de Conducta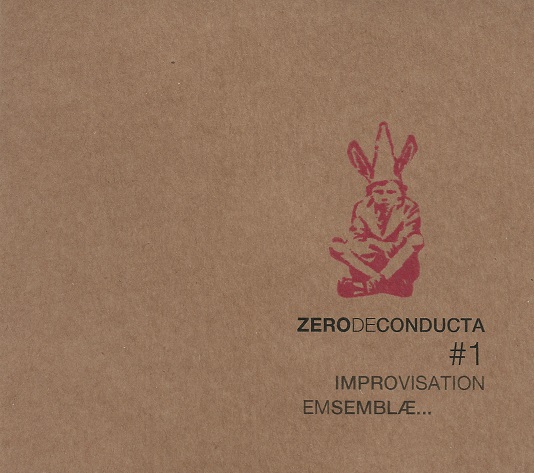 We have just published the IMPROVISATION EMSEMBLAE CD in a limited edition of 100 numbered and personalized copies in the graphic part, according to the tradition of the graphic work of the plastic artists. A small part of these 100 copies is available to anyone who is interested and wants to collaborate in the continuity of this project. For details, please send us a private message or leave a comment, and we will answer you. Thank you very much. ZER0 DE CONDUCTA
From a Jazz Noise, by Dave Foxhall
Montserrat Marfany – voice, percussion, slide guitar
offScope Jordi Buscà – guitar, bass, voice, effects & distractions
Sir Pere Canals – guitar, bass, percussion
Jaume Martín – guitar, synthesized guitar, percussion, glockenspiel, xylophone
Dr. Antoni Robert – synthesized guitar, bass, IC4039 synthesizer, percussion
Captain Enric Solà – drums, percussion, bass, distillates
Living Fast
Let's Dance
Careful with that Fridge, Kike
The Secret
Lost and Adrift
Sweaty Bougainvillea
L'Origen
The Lost Sound of the Monolith
(69:33)
Barcelona, 2016
Zer0deConducta is a relatively new Barcelona six-piece, self-described as, "an improvised, experimental, electro-acoustic group" – a new project it might be, but it's comprised of musicians and improvisers who've been around long enough to know what they're doing. While the city's free improv scene currently falls into two (very) broad halves – the non-idiomatic practitioners focused on pure sound and an often more minimalist 'faction' that tends to combine sound with visual arts (theatre, dance, performance, spontaneous painting/drawing)* – Zer0deConducta seem to be heading into different territory.
*(I'll probably get into trouble for this simplistic analysis.)
Partly it's their approach to creation which strikes me as stemming from more of a 'jamming' philosophy; i.e. not the kind of improvisation that seeks to avoid what has gone before but is happy to draw on the past to create something new. It often feels like songs are being constructed on the hoof, with clear rhythmic sections and repetition, resulting in a fairly instant payoff for the listener while retaining plenty of room for spontaneity (Let's Dance is a good case in point).
Maybe it's the instrumentation? No horns or reeds here. And the only instrument that might involve keyboard input is the synthesizer. Instead, the music comes from layers of guitars and bass, with drums, numerous percussive accents, and occasional vocal passages. But don't imagine there's any lack of improvisatory daring…
The disc walks a thin line between freedom and structure, managing not only to maintain its balance but also create improvisations that are very, very accessible. What's more, the choice and ordering of the material seems to have been done with accessibility in mind – the listener is given a chance to become immersed in the music before some of the more challenging sounds and passages occur. In other words, this is a well-constructed album, a coherent listening experience. How refreshingly traditional – dare I type the words "crossover appeal"?
I have a much-prized 3-LP set, "La Ciudad Secreta – The experimental sounds of Barcelona 1971-1991" (Munster Records) and the mood of loose experimentation in some of Zer0deConducta's music (e.g. the swirling psychedelic eddies of Sweaty Bougainvillea) is reminding me of some of those recordings, linking back to the past history (is there any other kind?) of improvisation and experimental music in the city. Nice.
And finally, the care taken with the music carries over to the packaging: all hand-crafted, individually stamped and a jet black CD with central sticker and faux-LP grooves – exquisite. By the way, the instruction on the CD is well-judged: "PLAY IT LOUD!"
With only 100 numbered copies available (well, 99 because #42 is mine, all mine!) the actual disc could be hard to find.
New comment:
Ya tengo mi ejemplar (37/100) de esta preciosa y cuidada edición numerada del disco de Zer0de Conducta, ensemble de improvisación. Un disco que no es para bailar, ni para tener de fondo mientras lees, ni para hacer una escena de sofá, a menos que quieras hacer una escena de sofá cubista… Es un disco para escuchar. Un trabajo magnífico que demuestra la habilidad de estos maestros de la improvisación contemporánea, a los que desde luego sería interesante ver navegar por terrenos minimalistas y ambient, más meditativos, porque creo que tendrían mucho que aportar.